Reach tens of thousands of qualified motorists with our CARBU.COM platform!
CARBU.COM is an essential medium when it comes to reaching energy consumers and motorists.
Since 2005, the CARBU.COM website has been informing Belgian, French and Luxembourg households and motorists about the prices of fuel at the pump and heating oil (Belgium only), to enable them to save money on their mobility and energy budget.
CARBU.COM is an independent comparison platform that provides its visitors with a great deal of useful information free of charge, such as the right time to fill up, the best prices and the most advantageous service stations nearby. CARBU.COM via its dedicated website MAZOUT.COM also allows to order fuel oil.
Over the years, CARBU.COM has established itself on its market and has seen a large community of regular users grow.
We offer you the opportunity to promote yourself on a niche media, to carry out targeted campaigns with a large community of committed consumers.
We accept CPM, CPL and CPA advertising campaigns. These options allow you to pay only for the actual results you get, giving you greater flexibility for your advertising campaigns. Contact us to learn more about these pricing options and how we can help you achieve your marketing goals.
1 – Display your advertising campaigns on CARBU.COM
The CARBU.COM website has several advertising spaces:
Leaderboard (728 x 90) Desktop – (320 x 50) Mobile
Leaderboard XL (840 x 150) Desktop – (320 x 50) Mobile
Leaderboard Expand
Billboard (920 x 250) Desktop – (320 x 100) Mobile
Leaderboard Overlayer
Video (Outstream)
Skinning (LB + Med. Rect. + Bckgrd)
Native Advertising (Image + Title + Text)
Parallax (700 x 1600 + 700 x 394) Desktop and Mobile
For Belgium, our bannering is managed by Produpress.
For France and Luxembourg, our bannering is managed in-house.
2 – Put yourself forward in the search results pages on CARBU.COM
For €1.25 per day per "station" location, you improve your positioning in the search results presented to our visitors and you get a clickable ad (IAB 300 x 250 Banner) to promote your brand.
Your advantage:
It's a great advertising investment: you reach an ultra-targeted audience for a lower cost!
3 – Sponsor Fuel Price Change Alerts
You communicate directly to our community members through banners (600 x 300) in the price change alert newsletters we send out each time the maximum price of gasoline and diesel changes.
Your advantage:
You have the opportunity to directly reach a community of more than 100,000 active members via high-performance mailings: opening rates of 30 to 50% and click-through rates of 3 to 10%.
4 – Sending dedicated emails to the CARBU.COM community
You communicate with our community through dedicated emailings sent by CARBU.COM.
Your advantage:
You benefit from the strength of a community of over 100,000 active members, with an open rate of 30-50% and click-through rates of 3-10%. Of course, you have the option of working with language and regional targets, starting at 12 cents per contact.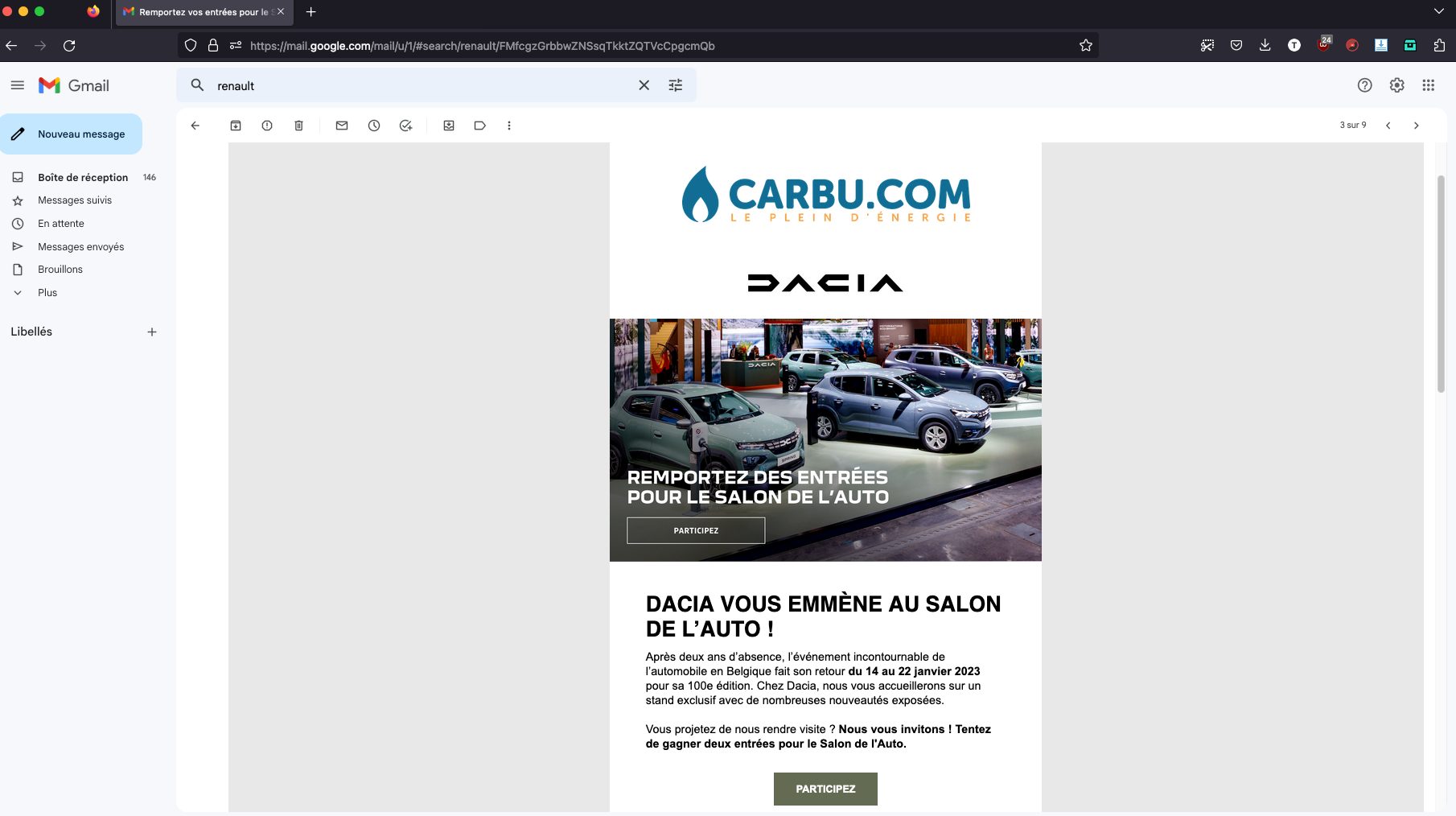 5 – Sponsored article purchases
You want to increase the visibility of your products or services to our audience and strengthen your SEO? Take advantage of the power of backlinks from CARBU.COM, a site that has perfected its SEO since 2005. Our main themes are mobility, energy and heating, and we are happy to offer you the possibility to publish sponsored articles from 150 € (excl. VAT) on our site to reach your target audience.
Please note that we do not accept articles on the following topics: cryptocurrencies, online betting and money making schemes in general.
We do not impose a word limit and you can include up to 2 links in each article. Articles must be written by you and be relevant to our themes.
Please feel free to contact our team to discuss your marketing and SEO needs. We look forward to working with you!